Here at Source One Transportation, we are proud to say, 'we employ many different drivers from many diverse backgrounds.' This month we are celebrating women in trucking, and our female drivers who bring an energetic attitude and irreplaceable expertise to their roles. Source One Transportation is grateful to have these inspiring ladies on our team.
Briana Wallace
Transport Driver, Source One Transportation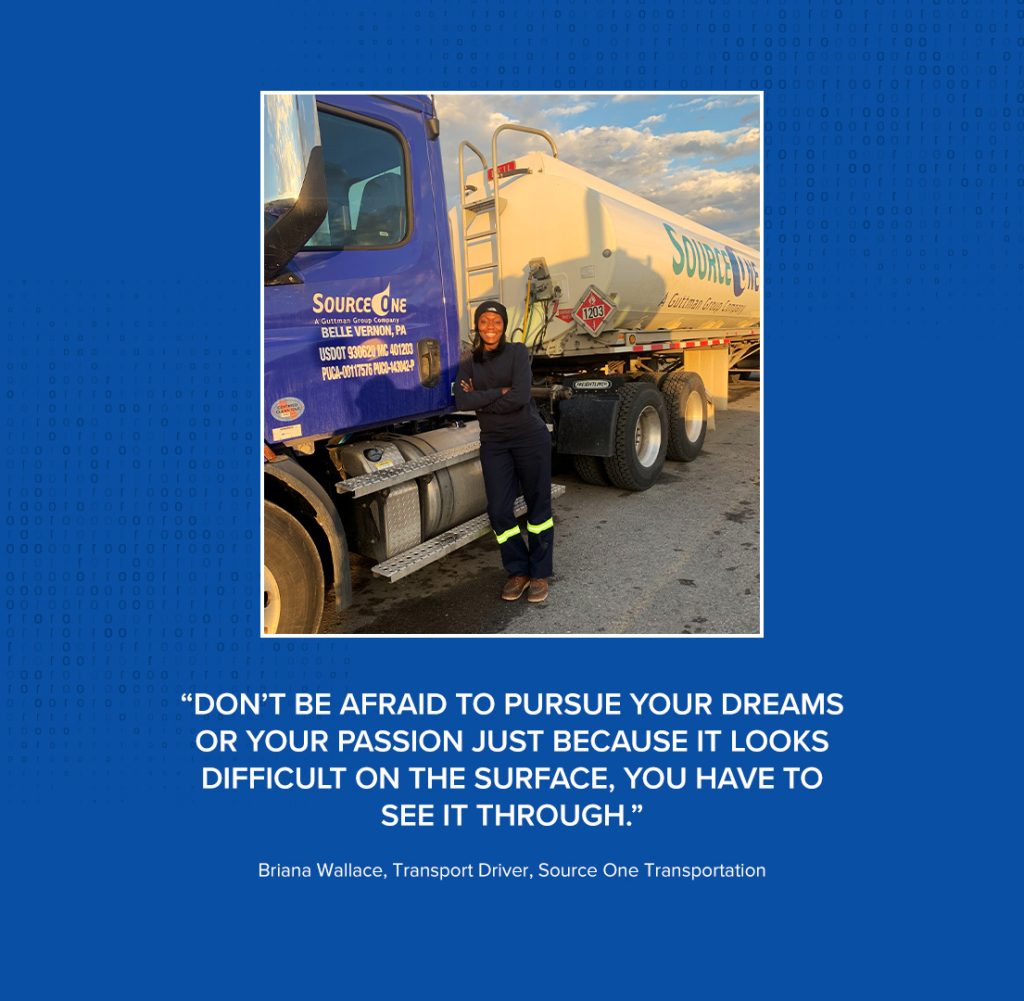 Briana has been working with Source One Transportation since October of 2022 at our Neville Island location. Prior to Source One Transportation, Briana worked in an office environment for over 10 years. To meet her personal goals and to provide for her son, Brianna decided to make a career change and attend CCAC in Monroeville to get her CDL. Briana is a fuel hauler, which is a specialized position due to how dangerous it can be, yet she finds the challenge rewarding. Here at Source One Transportation, she knows she is respected by other drivers, and they have her back. In her free time, Briana loves spending time with her seven-year-old son. They enjoy science projects, building robots, and going to the Carnegie Science Center.
Renee Burney
Transport Driver, Source One Transportation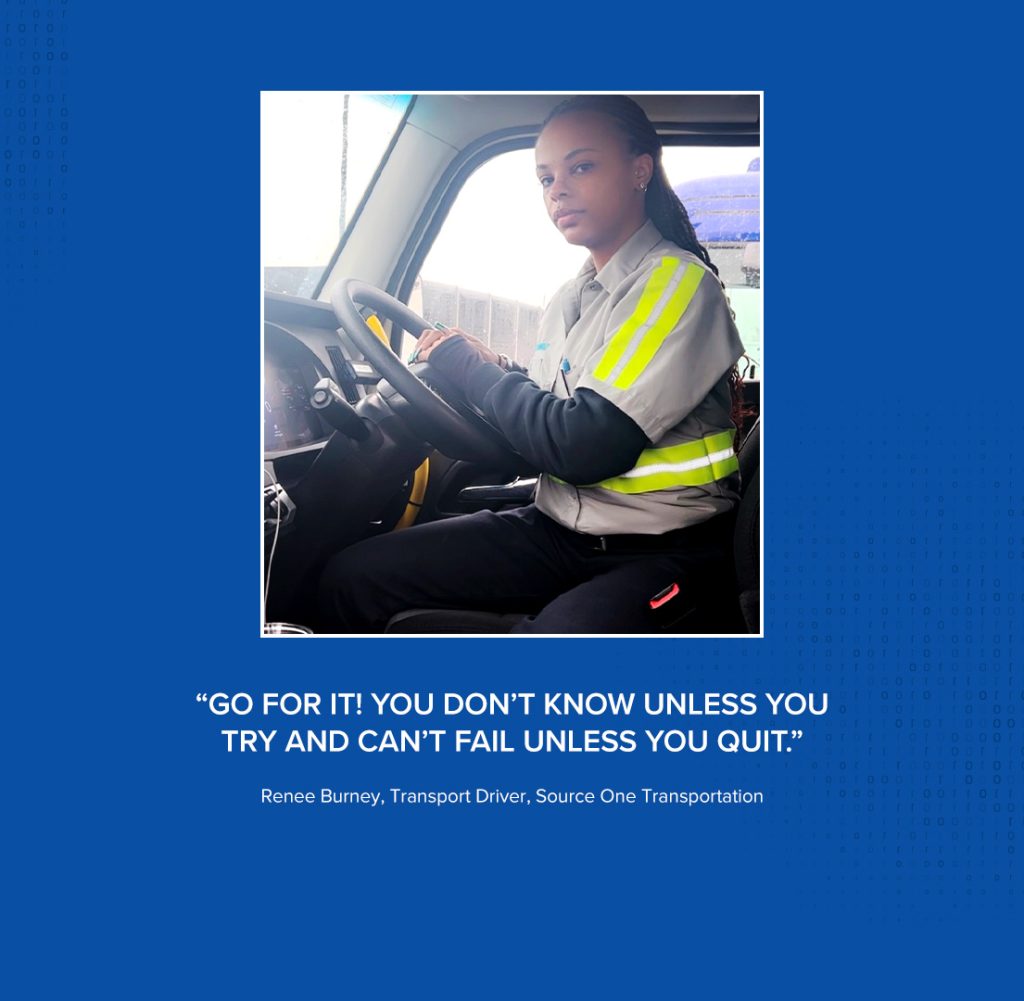 Renee has been with Source One Transportation since September 2022. This is her first job driving a transport. When choosing a career path, Renee knew she wanted to get her CDL. She originally started her career as a school bus driver. She then later decided to get her class A CDL license, and once she graduated, she was offered a position at our Youngstown location. Like Briana, Renee is also a fuel hauler and relies on the support of her peers to help her navigate her new position. She is the mother of two girls, a 10-year-old and a two-year-old that she enjoys spending time with. She also enjoys reading and focusing on ways she can further herself and continue to grow as a person.
Michele Nichols
Tank Wagon Driver, Source One Transportation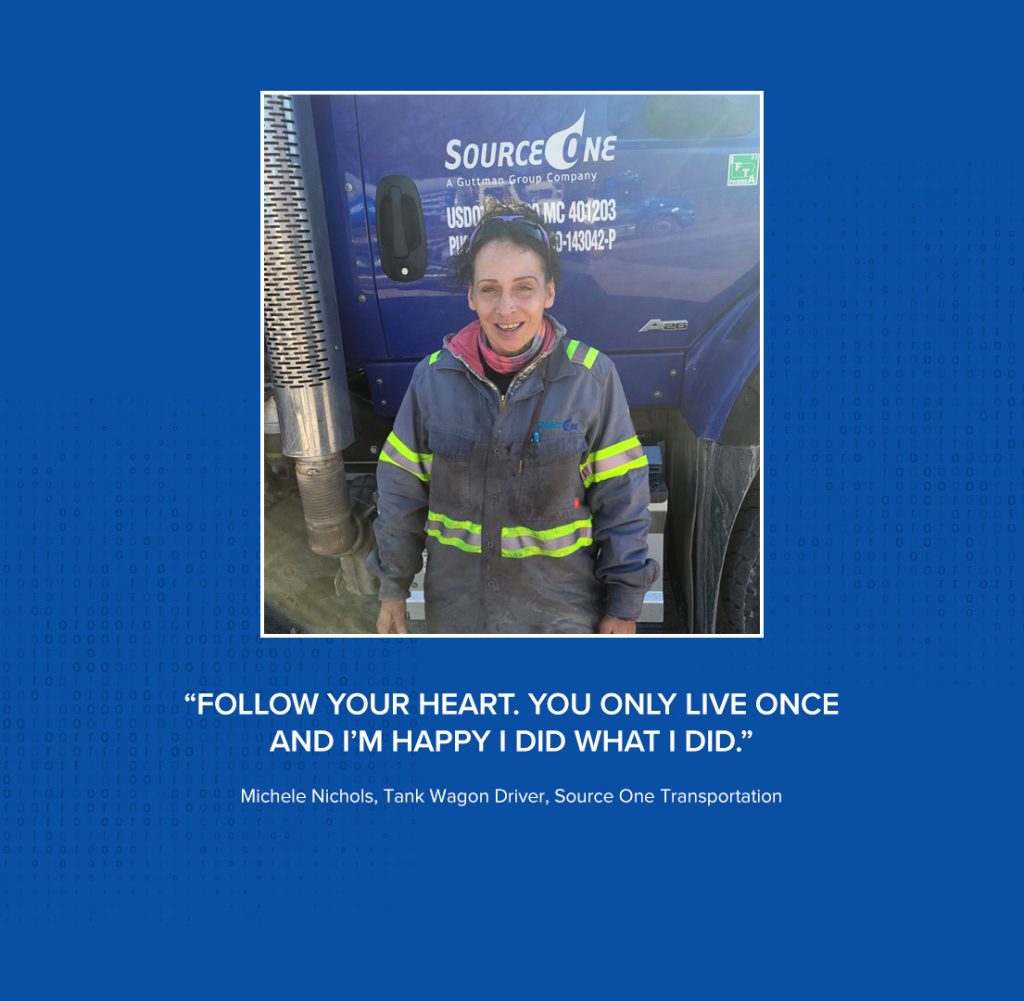 Michele recently started at Source One Transportation following a dramatic career change. Michele used to work as a loan officer and was a top performer at her job, but her dream was to become an over-the-road truck driver. With personal priorities changing things, she decided to join Source One Transportation, taking a job where she could be home every night.
After going back to school and breaking into the trucking industry, Source One Transportation reached out and brought her onboard as a tank wagon driver. As someone who wanted to see the country, she appreciates the views when delivering to the oil wells.  Her job requires her to drive in some challenging, locations to and from frac sites, however she finds the work incredibly rewarding.
If you're looking for a rewarding job that celebrates you why not start a career with us? Check out our career page, and who knows, we may just be giving you the spotlight next year as part of our Women in Trucking celebration.