Nearly any career you pursue will require training, whether it's a specialized degree or on-the-job instruction. Truck driving is no different. One of the most basic requirements to become a truck driver is completing CDL school and obtaining a commercial driver's license. But how much does CDL training cost? We're here to tell you.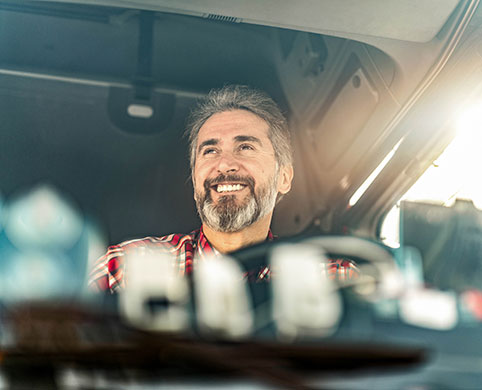 Cost of CDL Training
There are countless truck driving schools for you to consider, and the cost of your schooling may vary depending on the program, location, and other factors. In general, CDL training can cost anywhere from $3,000 to $7,000. Private CDL schools (those that don't receive any public funding) may cost even more, creeping toward $10,000.
Depending on your state, there are various fees involved in obtaining your CDL. These might include application fees, road test fees, the cost of the license itself, and any additional endorsements you seek (hazardous materials, doubles/triples, etc.). Your Department of Motor Vehicles (DMV) should be able to break down the costs in your area.
Financial Aid
Attending CDL school is a valuable investment. But it's understandable to be concerned about the cost. Thankfully, driving schools often offer payment plans or tuition assistance, allowing you to attend school without worrying about covering the entire cost up-front.
First, check with the CDL schools you're considering and ask if they offer any scholarships or grants. It's worth the time to do outside research as well; you may qualify for private or federal grants. If you're a veteran, don't forget to ask about the VA education benefits that may be applied toward your training.
If you're left paying for some or all of your schooling, don't panic. Many trucking companies offer tuition reimbursement once you've been accepted (or started) a program. Some trucking companies will even pay for your training with a guaranteed job offer upon completion. If you're interested in becoming a truck driver, it's worth seeking out potential employers early on to see if any of these opportunities are available to you.
Start Your Trucking Career with Source One
At Source One, we welcome incoming truck drivers to start their careers with a dedicated and passionate team. Our truck driving careers come with impressive benefits like 401(k) plans with company match, comprehensive medical benefits, and quarterly safety bonuses.
We're proud to serve dozens of clients throughout the Northeast, helping clients get the petroleum and alternative fuels they need when it matters most. Our drivers are the heart of our operation, and we work every day to keep our fleets moving and help our employees find fulfillment in their careers. Contact us today to learn more about becoming a member of the Source One team!